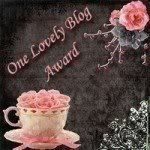 I got my first award! Yeah! Thank you so much
little lady cakes!
So, I have to give the award to 15 other newly discovered blogs - which because I participate in SITS is not a hard thing to do!
Here goes -
1.
Bluebirds living in the meadow
2.
Lavender and Roses
3.
The Entertaining House
4.
Fairy Blog Mother
5.
So Not Mom-O-Licious
6.
Honest & Truly
7.
Keeping up with the Schultz Family
8.
Mommy? I'm Hungry!
9.
Creative Attempts
10.
Sassy Secrets of a True Blue Housewife
11.
Lovely Purses
12.
Unwrap Life
Here are the rules:
1)
Accept the award, post it on your blog together with the name of the person who has granted the award, and his or her blog link.
2)
Pass the award to 15 other blogs that you've newly discovered. Remember to contact the bloggers to let them know they have been chosen for this award.